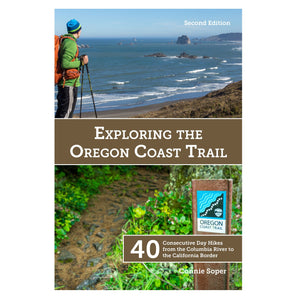 Exploring the Oregon Coast Trail, by Connie Soper - Autographed Copy
Regular price $18.95 Sale
If you have taken even a short walk on any beach in Oregon, you have been on the Oregon Coast Trail. This wonderfully scenic and diverse trail extends nearly 400 miles from the Columbia River to the California border, with over half those miles on sand.  Exploring the Oregon Coast Trail (OCT) provides the information you need to complete the entire trail, or to enjoy segments of it as a series of day hikes. This book also provides insights on chapters of Oregon's coastal history that make hiking the OCT a special and unique experience. In doing so, it reminds us to celebrate Oregon's open beaches and not take them for granted.  

Highlights of the book include:
Detailed route descriptions for 40 consecutive day hikes along the OCT, beginning at the mouth of the Columbia River and ending at the California border

Mile-by-mile maps for most hikes

Directions for reaching the start and end points of each hike

Logistical information needed to successfully navigate the OCT, such as tidal considerations and arranging for boat rides

Historical and present day photographs of places visited along the OCT

Feature articles on the history and personalities that make hiking the OCT possible
A portion of this sale goes to Oregon Parks Forever to support increased environmental education, access, and healthy activities in Oregon Parks.